About Us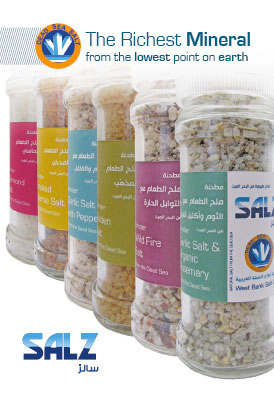 The West Bank Salt Company was established in 1960. It is owned and managed by Eng. Othman Hallak's family. West Bank Salt Company produces a rich mineral which is required for the human body. The mineral is manufactured without any chemicals. This iodized Sea Salt rock salt is healthy for the human body.
The West Bank Salt Company employs people exclusively from the local community who have high qualifications in manufacturing, packaging and marketing. At West Bank Salt Company we take our responsibilities for the development of our employees seriously and in this regard the company works closely with fair trade associations who ensure that employees are treated fairly.
The factory and its facilities are established over an area of 600 dunums directly on the west bank of the Dead Sea. The company has two production facilities; The first facility is the Sea salt Refinery. The second facility is the packaging house where Natural Sea Salt is being packaged, in addition, to other Cosmetic Body/ Facial Care products made of Dead Sea Mud, Sea Salt and water Brines.
Our vision:
To bring the benefits of the Dead Sea salt to every home and to penetrate the local and international markets with premium quality products.
Our mission:
To respond to the consumers needs through providing them with the premium and natural quality of products.
Location:
The Refinery is located over an area of 600 dunums to the north of the Dead Sea 424 meters below sea level.
The packagine house is located in the city of Jericho on 10 Dunum land and is Quality Certified (ISO) & (PS).
slogan:
Salt is the New White Gold